Registration has closed.
We look forward to seeing you
next year!
For those new to KWKC, every year hundreds of our QL grads, instructors, and new students gather to experience the QL curriculum and learn directly from billionaire and Keller Williams' Founder, Gary Keller.
Through personal stories, thought-provoking examples and proven models, Gary teaches attendees how to gain their edge and pursue their life mission, no matter what industry they pursue. Attendees leave with actionable tools to make better decisions, move past obstacles, and accelerate their results in all areas of life.
Schedule of Events:
Thursday, June 10th (3:00pm-5:00pm CT)
Welcome & Warm Up for QL Summit: Hear from top leaders on how to get the most out of QL Summit
Friday, June 11th (9:00am-5:00pm CT)
Quantum Leap: Learn from billionaire and Keller Williams, Executive Chairman, Gary Keller
Saturday, June 12th (10:00am-1:00pm CT)
THINK BIG, go small: Apply QL to your life with interactive QL Workshops and Keynote Speaker, Kymber Menkiti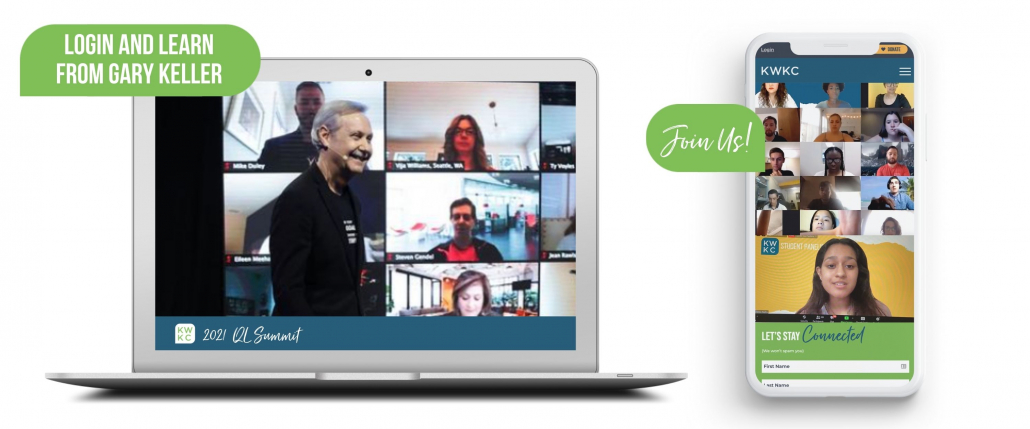 Here's a preview of what you can expect at OUR VIRTUAL QL Summit 2021:
Designed for leaders, entrepreneurs, and big thinkers… this event is for you if you're a young adult who has a big vision for their life and are looking for the tools, resources and support to make this vision a reality.